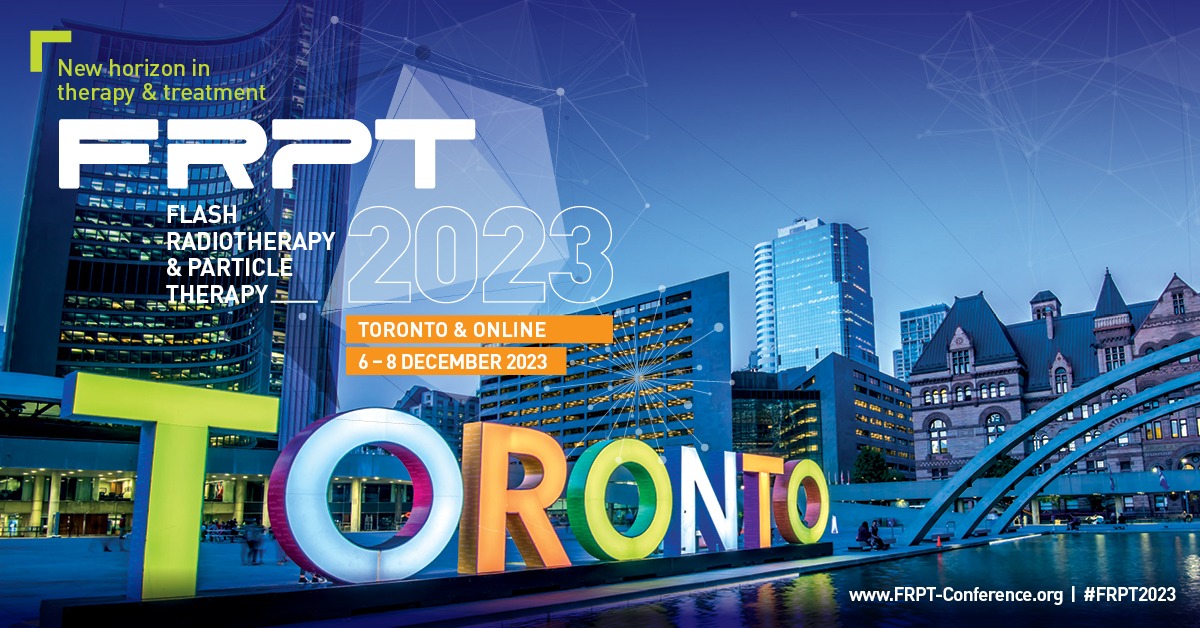 Dear Friends and Colleagues,
On behalf of the FRPT 2023 Organizing Committee, we warmly welcome you to the 3rd Flash Radiotherapy and Particle Therapy Conference (FRPT 2023) which will be held on 5-7 December 2023 in Toronto, Canada.
We plan an exciting meeting focused on the latest developments in FLASH Radiotherapy (RT), bringing together scientists and professionals from around the world.
The Conference aims to gather researchers and students (from academia and industry) with professionals working in clinical oncology (clinicians, medical physicists, dosimetrists, radiotherapy technologists and nurses) and provide a multidisciplinary forum to discuss the latest developments in FLASH RT.
The ultimate goal of the Conference is to harness the potential for FLASH RT in a rigorous scientific and quality assured environment and to act as a forum for the very latest advancements in this rapidly developing field.
Following the successful practices of FRPT 2021 and 2022, together with the Scientific and International Advisory Board, we plan to have an informative and cutting-edge programme that highlights the areas of substantial recent progress while also posing the tough questions where progress has been more challenging. We combine our efforts to ensure a diverse and exciting programme containing the very latest innovations and research in the field, with plenary and invited talks from internationally recognised leaders and stimulating debates on controversial topics. The wide variety of conference themes includes basic science, preclinical research, translational applications and clinical trials, treatment and more.
We are planning a bountiful programme of activities, both at the conference and offsite.
Please follow our website for announcements on the timeline for abstract submissions – if you are interested in showcasing your own research projects, we would love to hear from you.
FRPT 2023's programme will provide ample opportunities for networking professionally and socially. The social programme promises to be exciting and engaging while also allowing you to experience the welcoming culture of Toronto. Toronto is a lively, vibrant and multicultural city, with stunning Niagara Falls an easy day trip from the city centre.  We look forward to interacting with you as you enjoy the conference and hopefully spend a few extra days exploring the sights, theatres and cuisine of the 4th largest city in North America.
We are extremely delighted to welcome you to Toronto, Ontario and Canada!
Our warmest regards,
FRPT 2023 Organising Committee